Sharm el Sheikh, Egypt -- After fourteen days of training at the Only One Apnea Center, on October 5th, 2010 Annelie Pompe set a new women's World Record of 126 meters in the Variable Weight (VWT) freediving discipline.
Variable Weight is a record discipline that uses a weighted sled for descent, and for the return ascent the freediver either swims up or pulls up the line on their own power. For her record-setting dive to 126m, Annelie weighted the sled with 25 kilos and she swam back up using a mono-fin. Wearing a 5 millimeter wet-suit, fluid goggles and a Trygon nose clip Annelie's total dive time took 3 minutes and :16 seconds, of which her ride down to 413+ feet took 1 minute and :20 seconds, and her return ascent took 1 minute and :56 seconds.
But this latest achievement seems to only be the beginning for the Swedish outdoor athlete who has her sights set on a number of upcoming goals. Pompe intends to go even deeper and even higher. She has her eye on Streeter's No Limits record of 160m, but first she will attempt to climb Mt. Everest in May 2011. "My life is filled with ropes that either go up or down," says Annelie. The mountains and the oceans tend to be the places where she most finds her freedom, and where she spends most of her time as both a freediving instructor and personal trainer.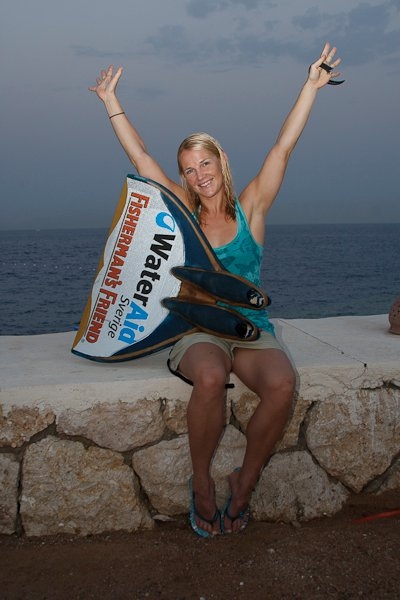 Annelie's dive surpasses by one meter the previous VWT record that was held by Natalia Molchanova of Russia. Pending a final doping test, this new world record has been ratified by AIDA.